---
Effective faculty development is more than possible in the COVID-19 Era
Define roles and goals for an effective program.
---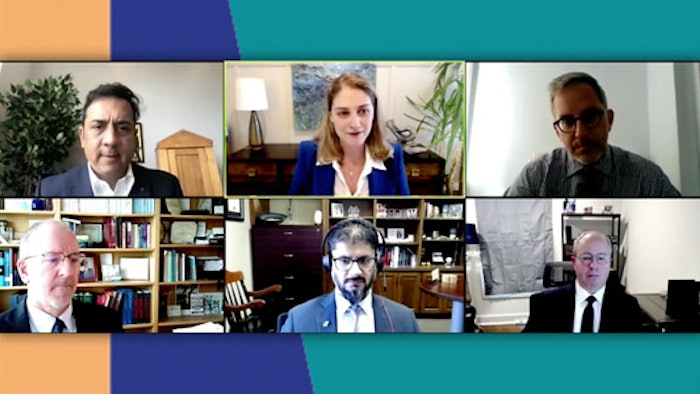 Sunday morning's Panel Discussion provided an extensive view of effective techniques and tools to help residency programs provide comprehensive faculty development in today's obstacle-packed climate.
Moderated by James Brown, MD, "Faculty Development in the Covid-19 Era: How to Optimally Meet ACGME Requirements," featured presentations by Moben Mirza, MD, FACS; Timothy Averch, MD, FACS; Lee Richstone, MD, FRCSC; Raj Pruthi, MD, MHA; and Anne Suskind MD, MS, FACS, FPM-RS.
The course looked at faculty development from three perspectives—resident education and evaluation, patient safety and quality improvement, and scholarship and mentoring—and concluded with Brown's presentation on Accreditation Council for Graduate Medical Education (ACGME)-focused teaching evaluation forms.
In his presentation on resident education and evaluation, Dr. Mirza, who serves as residency program director at the University of Kansas in Lawrence, covered several topics including how to apply learning theory to the stages of learning, the six steps in curricular development, teaching in a clinical setting, developing an effective needs assessment and establishing trust. 
"The purpose of education in a clinical setting is to assess surgical proficiency… and that has to do with assessing both the knowledge and skill, but it also has to do with judgement," Dr. Mirza said. "That's obviously a big part of teaching because any resident who is not progressing to the (stages) they should is going to be a problem to teach. So, we need to be able to assess that before we start a case."
Dr. Averch, the chief of urology at Palmetto Health USC Medical Group, and Dr. Richstone, the chair of urology at Lenox Hill Hospital, teamed up to deliver the segment on patient safety and quality improvement.
Dr. Richstone said it is imperative for all faculty to assess what they're doing in regard to technical skill training and to take opportunities to teach residents in a safe environment.
"That said, nontechnical skills are responsible for most errors," he said. "According to a report from the Joint Commission, most errors are the result of nontechnical skills such as human factors, leadership, communication and professionalism. So, these things are important to us, as faculty, to include in our programs and not be ignored."
In their presentation, Dr. Pruthi, the chair of urology at the University of California San Francisco (UCSF), and Dr. Suskind, UCSF's chief of Neurourology and Female Pelvic Medicine and Reconstructive Surgery, detailed why a faculty development program is important to a practice, as well as how a mentorship program can exponentially increase those gains.
"To have an effective program, the goals must be clear and relevant, and the roles of the mentors and mentees must be well defined," Dr. Pruthi said. The linking of mentors and mentees needs to be the result of a thoughtful process and really should be assigned to a specific leader; in our department, that's Dr. Suskind."
Dr. Pruthi said programs should also offer educational opportunities that are needed by the mentees, backed by effective communication regarding roles and responsibilities for both mentors and mentees. He also stressed the importance of paying special attention to faculty diversity.
Wrapping up the course, Dr. Brown, who serves as the medical director and former residency program director of urology at the University of Iowa, walked attendees through the details of several different forms required to meet the ACGME's updated guidelines. To access these items, access the course page and download them under the Documents & Links section.
Visit AUA2021 Daily News Online for more articles.