---
Retzius-sparing robotic radical prostatectomy debated
The pros and cons of Retzius-sparing robotic radical prostatectomy were presented in Saturday's Crossfire, with a video demonstration of a new alternative surgical technique.
---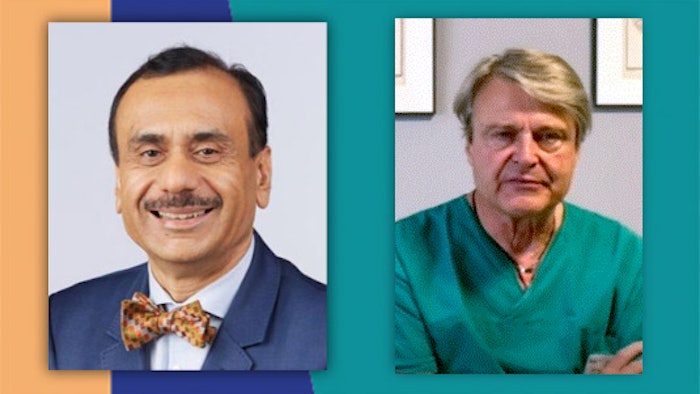 Retzius-sparing robot-assisted radical prostatectomy is a surgical technique developed to promote early continence recovery and functional outcomes following prostatectomy. The surgical technique approaches the prostate from a small space below the bladder to minimize surgical trauma and preserve normal pelvic anatomy.
Should you add this technique to your surgical repertoire? That's debatable. In Saturday's session, "Crossfire: Controversies in Urology Debate: Retzius-Sparing Robotic Radical Prostatectomy," Aldo Bocciardi, MD, director of the Urology Department at the Niguarda Ca' Granda Hospital in Milan, and Ashutosh (Ash) K. Tewari, MBBS, MCh, chair, Milton and Carroll Petrie Department of Urology, Mount Sinai Health System and professor of urology at the Icahn School of Medicine at Mount Sinai, presented the pros and cons of this innovative method.  
Citing unpublished data submitted to European Urology involving a study with 320 patients, "Retzius-sparing robotic radical prostatectomy is associated with faster and higher urinary continence recovery in the short term and also in high-risk prostate cancer settings," Dr. Bocciardi said.
The overall advantages of Retzius-sparing robotic radical prostatectomy include early continence recovery and oncological results comparable to anterior robot-assisted radical prostatectomy.
"The procedure is faster, there's less bleeding, lower risk of hernias, it's still possible for cistocath placement and it's standardized," Dr. Bocciardi said. "I hope Retzius-sparing robotic radical prostatectomy will become popular all around the world."
"Retzius-sparing robotic radical prostatectomy requires us to work in a very small space, which forces us to use more cautery," Dr. Tewari countered. In addition, the surgical technique lacks a lateral aiming point when dissecting the lateral pedicles of the prostate. "There's also an inability to look into the bladder, after bladder neck division, to verify the position of the ureteric orifices, and there's an inverted relationship between the bladder and prostate during dissection and reconstruction," he said.  
Dr. Tewari presented an alternative structure-sparing "Hood" robotic radical prostatectomy technique, with anatomical dissection demonstrated on video.
"The Hood is made up structures. It's not prostate, but it's embedded within the prostate," Dr. Tewari said. With the Hood technique, median lobes, sub-trigonal benign prostatic hyperplasia and ureteric orifices are handled under imaging. "There's no worry about ureteric injury," Dr. Tewari said.
The technique can be performed with all sizes of prostates transperitoneally, extraperitoneally or transvesically, with a subserosal tunnel or wider access if lymph node dissection is needed.
"The alternative technique also allows for sparing the bladder neck or reconstruction based on oncological and anatomical determinants," Dr. Tewari said. Another advantage: The Hood technique is versatile in modifying planes of dissections by partial thickness or unilateral hood creation to accommodate tumor location.  
"With this alternative technique to Retzius-sparing robotic radical prostatectomy, we can achieve almost similar outcomes coming from the front of the bladder, which is easier and more anatomical for most robotic surgeons," Dr. Tewari said. "And for the majority of robotic prostatectomy surgeons, the technique is easy to adapt."
Moreover, he said, citing the literature, "at about four weeks post-surgery, 91% of patients are continent." 
Visit AUA2021 Daily News Online for more articles.