---
Pembrolizumab is first immunotherapy to show benefits in RCC adjuvant use
Positive data have potentially practice-changing implications for patients.
---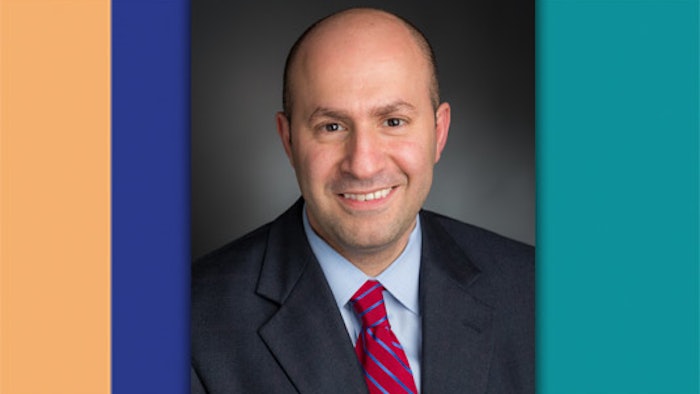 An interim analysis of the KEYNOTE-564 trial shows improved disease-free survival (DFS) and overall survival (OS) following nephrectomy for renal cell carcinoma (RCC) for patients who were offered pembrolizumab versus placebo. Adjuvant pembrolizumab reduced the risk for recurrence or death by 32% compared to placebo after a median follow-up of about 24 months.
"KEYNOTE-564 provides the first positive data for immunotherapy in adjuvant RCC, an area of high unmet clinical need," said Toni K. Choueiri, MD. "The KEYNTE-564 results have potentially practice-changing implications for patients post-nephrectomy with a high risk of disease recurrence."
Dr. Choueiri is professor of medicine at Harvard Medical School and director of the Lank Center for Genitourinary Oncology at Dana-Farber Cancer Institute/Brigham and Women's Hospital in Boston. He will discuss the results of KEYNOTE-564 with a special emphasis on urology during the late-breaking abstracts presentation on Friday.
KEYNOTE-564 randomized 994 patients with completely resected, histologically confirmed clear cell RCC who were at high risk for recurrence. Each participant in the trial received either adjuvant pembrolizumab at 200 mg every three weeks or a placebo for up to 17 cycles (approximately one year). The primary endpoint was DFS, and the secondary endpoint was OS. Other planned analyses included safety and tolerability, pharmacokinetic parameters, antidrug antibodies and DFS and OS by PD-L1 expression status. Researchers were also looking for biomarkers that may be associated with response.
The clinical need for safe and effective adjuvant therapy is enormous, Dr. Choueiri said. The current standard of care for patients with local or regional RCC is partial or total nephrectomy, but nearly one-half of patients will eventually have disease recurrence after nephrectomy. Currently, there are no standard, widely approved adjuvant therapy options for this population.
Sunitinib has been approved by the Food and Drug Administration for adjuvant use in RCC, Dr. Choueiri noted, but the cancer community has not embraced the agent because of continuing concerns over toxicity and inconsistent patient benefits.
A planned interim analysis of KEYNOTE-564 showed 12-month DFS of 86.7% for patients in the pembrolizumab arm versus 76.2% in the placebo arm. The corresponding 24-month rates were 77.3% and 68.1%, respectively. The overall hazard ratio for pembrolizumab was 0.68. There were no surprises in the adverse event (AE) profiles for either arm and no new safety signals for pembrolizumab.
A total of 18.5% of patients in the pembrolizumab arm reported Grade 3-5 AEs versus 1.2% in the placebo arm. There were no fatal treatment-related AEs. Immune-mediated AEs were more common in the pembrolizumab arm.
"The KEYNOTE-564 study met its primary objective of demonstrating a statistically significant and clinically meaningful improvement in DFS with pembrolizumab, supporting pembrolizumab as a potential new standard of care for patients at high risk of disease recurrence following surgery," Dr. Choueiri said. "It is not yet clear whether the use of pembrolizumab in the adjuvant setting will impact subsequent treatment decisions in the advanced setting. Additional analyses are needed to inform on this question."
Visit AUA2021 Daily News Online for more articles.