---
Reviewing treatment options for prostate, bladder and kidney cancer
Staying up to date is critical for improving patient outcomes.
---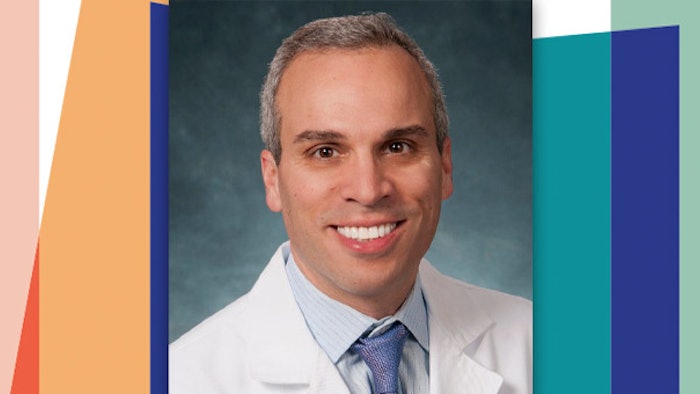 The landscape for treating prostate, bladder and kidney cancer continues to change rapidly. Staying abreast of the latest clinical trials, journal articles, evidence and guidelines is essential to improving patient outcomes.
Sunday's session, "Chemotherapy and Immunotherapy for the Urologist and Advanced Practice Provider," explores both the history and future of systemic disease in these tumor types and reviews select case studies. The goal, according to Costas Lallas, MD, FACS, who will lead the session, is to improve clinician knowledge and confidence in treating each. Dr. Lallas is professor of urology and vice chair of education at the Sidney Kimmel Cancer Center and Thomas Jefferson University in Philadelphia.
"We will begin with discussing immune checkpoints as a normal part of the immune system and their role in preventing an immune response from destroying healthy cells in the body," Dr. Lallas said. 
In discussing prostate cancer, Dr. Lallas said most of the recent advances revolve around androgen receptor (AR)-targeted therapies in the treatment of metastatic castrate-sensitive prostate cancer (CSPC) and non-metastatic and metastatic castrate-resistant prostate cancer (M0/M1 CRPC).  AR-targeted therapies for metastatic CSPC (mCSPC) include oral enzalutamide, apalutamide and abiraterone as well as the chemotherapeutic agent docetaxel. These therapies are FDA approved, whereas oral AR-targeted therapies all involve multiple pathways of inhibiting androgen production and binding at the AR. Unfortunately, most of the side effects are related to chemical castration, he said. 
As for the treatment of advanced bladder cancer, traditional platinum-based chemotherapy may fall second to recent advances in checkpoint inhibitor (CPI) regimens. These are particularly effective for patients who are thought to be ineligible for cisplatin administration, Dr. Lallas said.
"This may represent up to 50% of patients with metastatic urothelial carcinoma, and in those who have failed platinum-based chemotherapy regimens," Dr. Lallas said. "The CPI regimens utilizing pembrolizumab and atezolizumab are indicated for first line chemotherapy-ineligible mUC, whereas pembrolizumab, nivolumab and avelumab are indicated as second line treatments."
Additionally, the targeted agent erdafitinib has demonstrated efficacy in second line metastatic urothelial cancer (mUC) that is fibroblast growth factor receptor (FGFR) positive. In mUC patients who have failed CPI, the drug-antibody conjugate enfortumab vedotin, along with erdafitinib (FGFR+), have gained approval. Side effects of the CPI are typically immune mediated (thyroiditis, dermatitis, hepatitis, etc.). Erdafitinib has a side effect profile similar to other tyrosine kinase inhibitors (hand-foot syndrome, gastrointestinal distress and other skin changes). Enfortumab has chemotherapy-like side effects, including hair loss, gastrointestinal distress, fatigue and neuropathy. 
Meanwhile, there is good news in the treatment of advanced kidney cancer, Dr. Lallas said. "Therapies have changed dramatically in the last two decades, the start of which was bleak for patients with metastatic renal cell carcinoma (RCC). The targeted agent era marked the time period from 2005 to 2015, at which time the immuno-oncologic agents, particularly the CPI, became available," he said. 
Currently, the combination of regimens of vascular endothelial growth factor-targeted therapies and CPI is popular in first line and beyond treatment of metastatic RCC, both clear cell (CC) and non-CC histology. Treatments are also stratified based on International Metastatic RCC Database Consortium risk classification. For favorable risk metastatic clear cell renal cell carcinoma, first line combination treatment includes axitinib/pembrolizumab and cabozatinib/nivolumab. These patients also can receive targeted agent monotherapy with sunitinib or pazopanib.  Similar regimens also are used for second-line and beyond treatment. Unfortunately, non-CC mRCC is harder to treat, Dr. Lallas said. Sunitinib monotherapy or an appropriate clinical trial are the only first line options. 
Visit AUA2021 Daily News Online for more articles.