---
Reducing the treatment burden of testicular cancer
New treatment approaches can potentially improve long-term outcomes.
---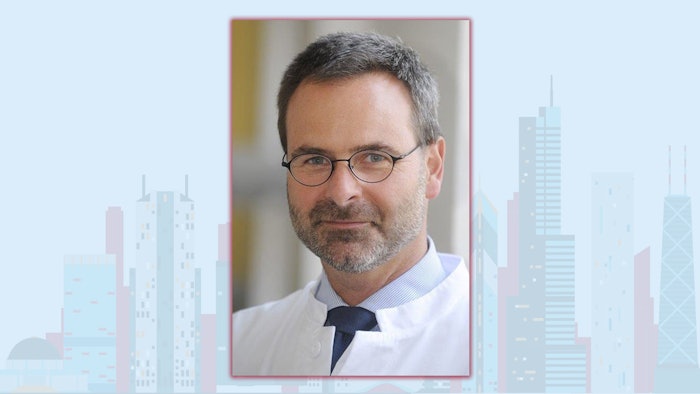 An estimated 9,190 new cases of testicular cancer will be diagnosed this year in the U.S., making it a rare but not uncommon cancer in young men, with 33 the average age of first diagnosis. About one of every 250 males will develop testicular cancer at some point in their lifetime.
"Quality of care is an important issue in view of the long-term side effects of systemic treatment, which is usually cisplatin-based chemotherapy," said Peter Albers, MD, who will present the European Association of Urology Lecture, "Paradigm Shifts in Testicular Cancer Surgery," on Friday, April 28, from 10:25 to 10:40 a.m.
Dr. Albers is professor of urology at Heinrich Heine University Düsseldorf and chair of the department of urology at the University Hospital in Düsseldorf, Germany. For the past four years, Dr. Albers has also chaired the Scientific Congress Office of the EAU and is double affiliated at the German Cancer Research Center, a national cancer research institute in Heidelberg.
"Testicular cancer patients usually survive to nearly 100%, but those with intense treatment suffer later from secondary malignancies and side effects of chemotherapy," Dr. Albers said. Long-term side effects include renal insufficiency, hearing loss and heart failure, which contribute to eight to 10 years less survival compared to a healthy male population.
Dr. Albers has dedicated his scientific career to reducing the treatment burden on these young patients. In recent years, he and his team have explored less toxic surgical approaches, such as robotic retroperitoneal lymph node dissection (RPLND), the robotic resection of abdominal lymph nodes for improved staging and tested this approach in prospective trials.
During the EAU Lecture, Dr. Albers will discuss paradigm shifts in testicular cancer management to improve long-term outcomes, including:
Sentinel node staining and RPLND. "We are establishing a phase I/II trial that combines robotic RPLND with orchiectomy for better staging," Dr. Albers said.
Using robotic RPLND to resect metastatic small seminoma and nonseminomatous germ cell tumor of the testis
Performing "desperate surgery" with rising markers in patients after salvage chemotherapy, with considerably favorable results
Performing radical surgery in patients after high-dose chemotherapy, including bone resections, to offer patients a chance for a cure
Those attending this Friday session will come away with new approaches that reduce the side effects on these young patients while improving overall outcomes.  
"Testicular cancer has high cure rates, but every change in management and guideline non-adherence needs prospective, quality-controlled data and centralized, comprehensive treatment," Dr. Albers said.