---
AUA2023 through the eyes of an MD candidate
Newcomer medical student Yeonsoo Sara Lee shares her insights about the Annual Meeting.
---
Yeonsoo Sara Lee, BS, is a third-year medical student at the Mayo Clinic Alix School of Medicine in Jacksonville, Florida, and part of a relatively new program that moves students between the Mayo campuses in Arizona, Minnesota and Florida. By graduation next year, she will have spent time at all three medical campuses. Lee plans on applying into urology and hopes to pursue academic medicine.
"I still have so much to learn regarding subspecialties, so I am enjoying the opportunity to explore potential fellowship opportunities," she said.
Medicine is not Lee's only passion, though.
"While my interests in art began separate from medicine as a child, I only recently reinvigorated my involvement in art in medical school, and have a passion in synthesizing art in medicine, and the medical humanities," she said.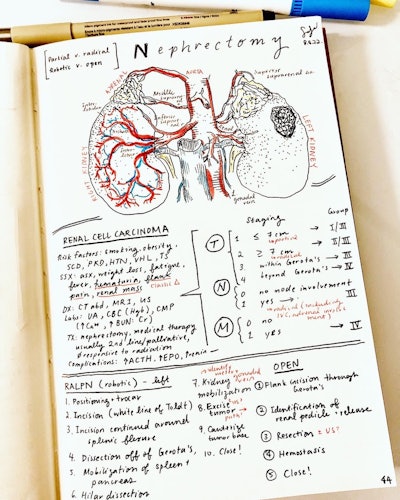 Lee is part of the inaugural Distinction Track in the Applied Medical and Health Humanities at Mayo. "I have noticed how this skill set has been incredibly useful for wellness, communication of scientific research and professional advancement," she said. "For example, doing the art itself is obviously enjoyable as a hobby, but getting to sketch my own illustrations for abstracts or journal articles means I have to truly understand the concept in order to be able to depict it. Further, art has been a way for me to connect with similarly artistically oriented medical professionals, including those in urology, but also beyond."
As a relative newcomer to the AUA Annual Meeting, Lee shared her recent experience at AUA2023 with AUA Daily News.
AUA Daily News: Leading up to the Annual Meeting, how did you plan which sessions you would attend?
Lee: I looked at the overall agenda and wrote in a notebook on every session I thought might be interesting, including those with overlapping times. Those that were interesting to me appealed for various reasons: There might be a panelist or speaker I admired for their expertise or from a program I was interested in, the topic was something I knew very little about or the topic was something that I knew I was passionate about. I highlighted the ones that might be most relevant/important to attend (including the Society of Women in Urology and the Medical Student Forum on Sunday) to prioritize making it to those. Otherwise, I think I kept my schedule fairly flexible for opportunities to jump into different sessions as I learned more about AUA2023 and how to navigate it. I also received advice from some of my residents and fellow medical students on sessions to definitely attend.
AUA Daily News: What was your overall impression at the end of your first day on site?
Lee: Everyone tells you AUA is going to be overwhelming, and everyone is right. There are an incredible number of exhibitors, sessions, plenaries. This is not to discount the fact that there are so many people from all over the world with various levels of training or ties to urology and interests in the field. I think what caught my attention by the end of my first day on site was how the event also served as an opportunity for building community—I noticed that some of my attendings spent time with their colleagues from residency, medical school, etc. They tell you in medical school that the specialty you end up in becomes filled with "your people" and that seemed to certainly be true.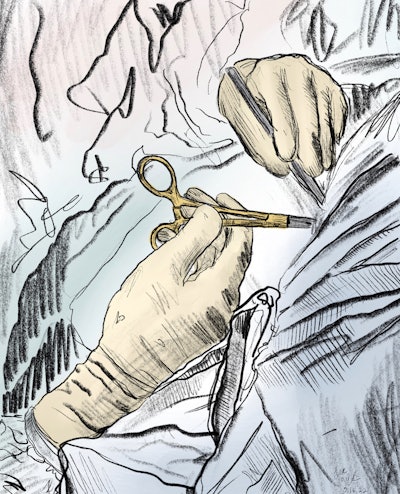 AUA Daily News: What was your favorite session?
Lee: The Society of Women in Urology event was my favorite session. As an Asian American woman pursuing urology—and understanding the importance of recruiting and retaining trainees of different backgrounds (and how this translates to better patient care and outcomes)—it remains so incredibly exciting to see female leaders in urology and female leaders in publications discuss intentional steps to mentor and sponsor female trainees. It also was exciting to see male leaders discuss allyship and really, as they said, "putting your money where your mouth is." The session highlighted some incredible research from female trainees (Ilaha Isali received the Elisabeth Pickett Research Award for her work in novel nintedanib-eluting microparticles for treatment of urethral stricture) and provided a chance for me to meet some of my mentors in person, including Dr. Rachel Rubin, and learn more about programs I am hoping to train at in the future. 
AUA Daily News: What is something you learned that will help shape your career?
Lee: Dr. David Canes' talk on efficacy during the Young Urologists Forum on longevity in practice was an excellent reframing of efficacy as not something that is supposed to increase net productivity, but as something to help reclaim and center your clinical practice in your life. He discussed leaning into Epic or electronic medical record dot phrases, delegation of tasks, decreasing downtime, but, most important to me, he discussed the need for a "side gig." He meant this not in a way to generate revenue, but something that one could be passionate about outside of the operating room or hospital. For me, I think that could be art, but he discussed that having a "side gig" would be important in the future so that the main gig (urology) would be on my own terms and could be used to seek intellectual fulfillment, which follows ebbs and flows in a (hopefully long) career in medicine.
AUA Daily News: How was the networking?
Lee: The networking was exciting, but a new frontier. As a natural extrovert, I found meeting new people exciting and, in general, everyone I spoke to was welcoming in discussing their work, answering questions and supportive. However, I was incredibly lucky to have several mentors both within my home programs at Mayo (residents and attendings) and those I connected with outside of my institution who were willing to help connect me to those who might be able to sponsor or mentor me. I recognize that networking at such a large event might be more difficult for those who are more introverted and or may not have a home program—which is why something like the Med(ical) Student Forum was so essential to meet peers.
AUA Daily News: What was the most exciting or memorable thing that happened at the meeting?
Lee: I mentioned the concept of "finding your people" earlier, but I think the most memorable thing was to overhear a conversation between two faculty in the Science & Technology Hall discussing their reasons for coming to AUA. In the conversation, they had just introduced their trainees to others who might be able to help them navigate their futures, and I heard them say, "This is why we come to AUA and why we do what we do. It honestly brings me so much joy." I don't think they know I heard them, but it was extremely affirming, and I hope to be part of a group of urologists that can pay it forward.
AUA Daily News: Are you planning to attend the meeting again next year?
Lee: Yes! I am already thinking about a project with some of my colleagues (including one I met in person for the first time at AUA2023) I hope to submit and present at AUA2024 in San Antonio.
AUA Daily News: Is there anything you'll plan differently as you look to next year?
Lee: I enjoyed my AUA2023 experience, and I imagine the more I learn during my home subinternship and acting internship rotations, the more I will be able to plan and improve on accessing the different opportunities at AUA2024. I think the main takeaway for me this year, somewhat jokingly, was to wear comfortable shoes because it is a big conference.