---
Putting AUA Guidelines into practice
Treatment recommendations for urinary tract infection in geriatric patients.
---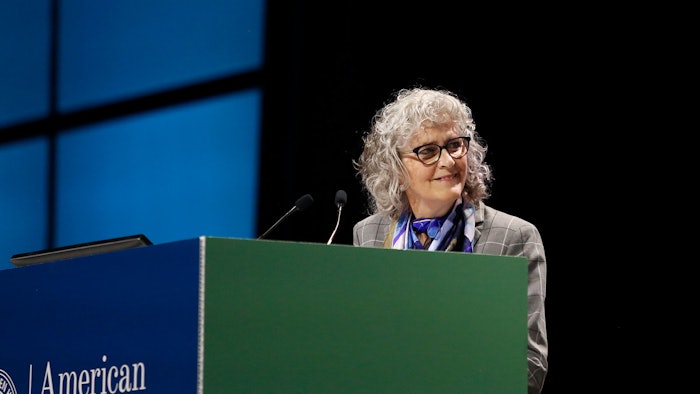 An 88-year-old female with advancing dementia and presumed recurrent urinary tract infections (UTIs) indicates discomfort in the vulvo-vaginal area. An 84-year-old independently living woman with recurrent UTIs who is sexually active complains of some pain during intercourse, vaginal dryness and irritation.  
How would you initially evaluate these patients? Should they be tested for UTIs? What should their treatment be?     
In Sunday's session, "Second Opinion Cases: The Growing Problem of Antibiotic Resistance for Urinary Tract Infection in Geriatrics," presenters Tomas L. Griebling, MD, MPH, FACS, the John P. Wolf 33 Masonic Distinguished professor of urology at the University of Kansas School of Medicine, and Camille P. Vaughan, MD, MS, division director of geriatrics and gerontology at the Emory University School of Medicine, weighed in on these recurrent UTI cases and offered their treatment recommendations in accordance with AUA Guideline statements.               
For symptomatic elderly patients with recurrent UTIs who don't live independently, "It's imperative to get a medical history from a caregiver," Dr. Griebling said. Both urologists agreed the 88-year-old patient with dementia shouldn't be tested for a UTI because another potential cause of her vaginal discomfort was identified on pelvic examination. The patient was ultimately treated with an estrogen ring, which tracked with AUA Guideline 16:
"In peri- and postmenopausal women with recurrent UTIs, clinicians should recommend vaginal estrogen therapy to reduce the risk of future UTIs if there is no contraindication to estrogen therapy."
Afterward, the patient stopped reporting her apparent urinary tract symptoms. The 84-year-old patient was also prescribed vaginal estrogen for her vulvar irritation.     
In general, in older patients with recurrent UTIs, "It's important to obtain cultures before treatment begins," said Ann E. Stapleton, MD, FACP, professor emeritus in the department of medicine, division of allergy & infectious diseases at the University of Washington, who moderated the session. Dr. Stapleton also offered these take-home tips for treating older patients with recurrent UTIs:
Treat based on symptoms, plus culture and urinalysis results
Avoid treating asymptomatic bacteriuria
Avoid surveillance urine and posttreatment testing
In peri- and postmenopausal women with recurrent UTIs, "vaginal estrogens are a powerful tool in the toolbox," Dr. Stapleton added. The panelists also emphasized the importance of UTI preventive strategies in older patients, including adequate hydration to promote appropriate fluid intake.
"Hydration is so important for promoting bowel regularity, as well," Dr. Vaughan said.