---
Robotics Theater takes urology procedures to the next level
Procedures focused on reconstruction of adults and pediatrics, prostate and bladder.
---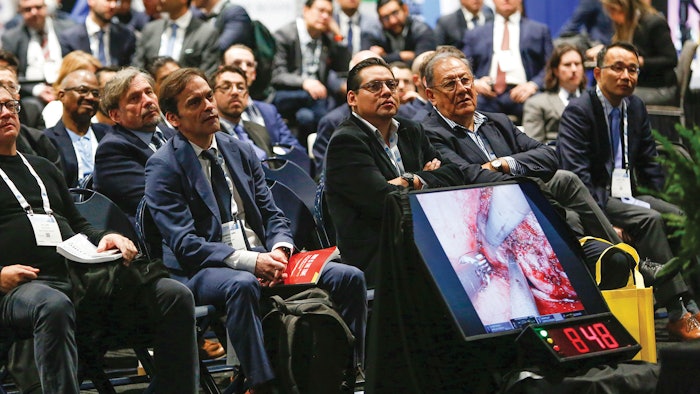 Showcasing the latest urology robotics techniques, AUA Robotics Theater featured narrated videos depicting the step-by-step technical aspects of robotic urological surgeries performed by experts and rising stars in the field. Robotics Theater, supported by Intuitive, presented procedures focused on reconstruction of adults and pediatrics, prostate and bladder. 
Janet Baack Kukreja, MD, MPH, FACS, associate professor of surgery-urology at the University of Colorado School of Medicine, led Saturday afternoon's Bladder Procedures program by narrating a video showing the robotic ileal conduit procedure.
"When we started the program at the University of Colorado, the biggest thing was the stricture rates, but we've gotten those really low," she said.
Johar Raza, MD, a urologic oncologist with the Henry Ford Health Center in Detroit, narrated a video presentation of robot-assisted cystectomy genital-sparing female radical cystectomy with paravaginal repair and ileal neobladder. "Vaginal prolapse is noted in 10% of radical cystectomy cases. I advocate a genital-sparing approach because it can help prevent such complications," Dr. Raza said.
Reza Mehrazin, MD, FACS, associate professor of urology at the Icahn School of Medicine at Mount Sinai Hospital in New York City, narrated a video demonstrating organ-sparing radical cystectomy and neobladder diversion. Dr. Mehrazin's tip: "Putting 100 cc in the bladder helps with ease of dissection."
Alvin C. Goh, MD, a urological cancer surgeon at Memorial Sloan Kettering Cancer Center, discussed a video demonstration of robotic intracorporeal neobladder surgery. "Preservation of female reproductive organs is feasible during robotic cystectomy," Dr. Goh said, "but accurate clinical staging and patient selection can optimize oncologic safety and voiding function."
The final video procedure was presented by Ryan Nelson, DO, director of robotics at the Henry Ford Macomb Hospital and featured single-port robotic intracorporeal neobladder surgery and a discussion of the latest da Vinci single-port (SP) robotic surgical system, which inspired audience members.
"I've been doing similar robotic techniques on the Si and the Xi for the last 10 years in the U.K.," said Robotics Theater attendee, Philip Charlesworth, MD, MPH, MBBS, from London. "We don't have an SP in the U.K. yet, but there's a lot I'm looking forward to doing on the SP when I get the opportunity that will benefit patients."
The Robotics Theater concluded the four-part series with highlights of kidney and upper tract procedures.