---
Make your next move at the Career Fair
Whether just starting out or looking to make a change, the Career Fair has you covered.
---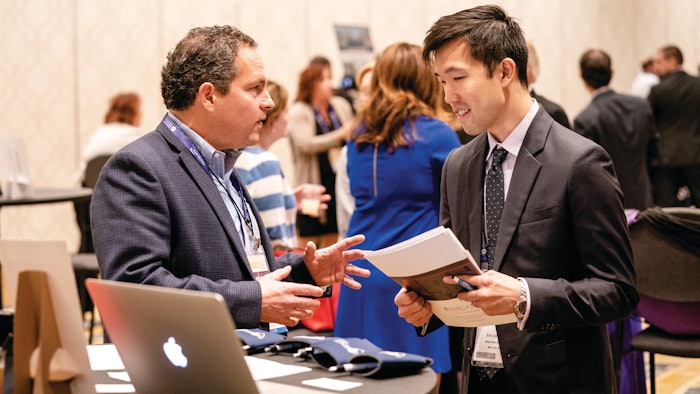 Getting started on a career path can be a challenge. AUA2023 aims to make that challenge a little easier by bringing back the Career Fair for the first time in more than 10 years.
More than 30 potential employers will be on hand offering their latest and greatest jobs as well as opportunities to network with other professionals in the urology field Sunday from 10 a.m. to 12 p.m. in the Grand Ballroom Lobby on Level 1. Kelly Krause, senior manager of event strategy and planning for Health eCareers, said attending the in-person Career Fair is a good move no matter where you are in your career. 
"It's the perfect venue for an event like this because a lot of the [AUA] members are in one place," she said. "It gives them the opportunity to network and start their job search if they are in their final years of residency or new to practice or even if they are late-stage career and are just looking for their next journey."
Employers looking to help take urologists on that journey include Adventist Health, Covenant HealthCare, Kaiser Permanente, Mercy Clinic, Summit Health Medical Group, Universal Health Services. 
After the last few years of virtual events necessitated by the COVID-19 pandemic, Krause said people are excited to have career fairs like this live and in person again.
"Virtual events took off at the start of COVID because it was new, and it was the only way to connect in a safe way," she said. "But now, after two and a half years of doing virtual events, we're starting to see a downward trend in registration and engagement for those because people want to get back to in-person events."
That doesn't mean the virtual events are going away. Far from it. Krause said there is a virtual event in the works for later this year that will tie in with the Career Fair at AUA2023. In the meantime, the in-person fair is free, and everyone attending will have their badge scanned to make it easier to share their information with employers.
If you need more help or information, the AUA Job Finder Kiosk will be open both Saturday and Sunday in The Square near AUA Central. There, both job candidates and employers can visit and learn about the AUA Job Board. 
"We can walk candidates through how to set up a job alert and apply filters so they can tailor their search to the exact job criteria they are looking for," Krause said. "On the other end, we can help members who are hiring post their job opportunities on the job board."