---
New technology
Looking into the future of robotics in urological medicine.
---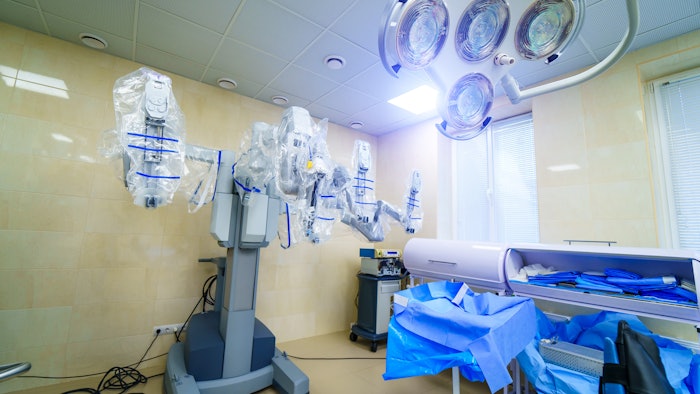 AUA2022 brought a glimpse of the latest technology to attendees looking for the most advanced tools for treating patients. Several sessions focused on robotic technology and its usefulness in urology.
Experts debated the top tool between single-port versus multi-port robotic prostatectomy in "Battle of the Robots: Which Is Superior?" For years, multi-port was the gold standard for robot-assisted prostatectomy. However, about three years ago a new challenger emerged in the form of a single-port device, raising the question: Which one will best serve you and your patients? Jihad Kaouk, MD, FACS, FRCS, professor of surgery and director of the Center for Robotic and Image Guided Surgery at the Cleveland Clinic's Lerner College of Medicine, and Jeffrey Cadeddu, MD, director of the UT Southwestern Clinical Center for Minimally Invasive Treatment of Urologic Cancer at UT Southwestern Medical Center in Dallas, Texas, presented arguments debating the top tool.
S. Duke Herrell, MD, FACS, professor of urological surgery and of biomedical and mechanical engineering at Vanderbilt University, and director of robotic surgery for Vanderbilt Medical Center in Nashville, moderated the panel discussion "Laparoscopic Robotic Surgical Systems–Emerging Systems in Urology Use," where urologists from Asia, Europe and North America discussed their personal experiences with new systems in clinical use.
A panel discussion on "Intra-Operative Navigation Tools for Robot-Assisted Surgery," moderated by Chandru P. Sundaram, MD, FACS, FRCS, professor of urology and director of minimally invasive surgery at Indiana University School of Medicine in Indianapolis, explored successive generations of innovations and upgrades that are helping robotic surgeons navigate more confidently through often complex anatomies. More advanced versions of existing tools and novel applications will make intra-operative navigation even easier in the very near future.