---
AUA details updated priapism guideline
The 2022 update is the first change to the guideline in more than two decades.
---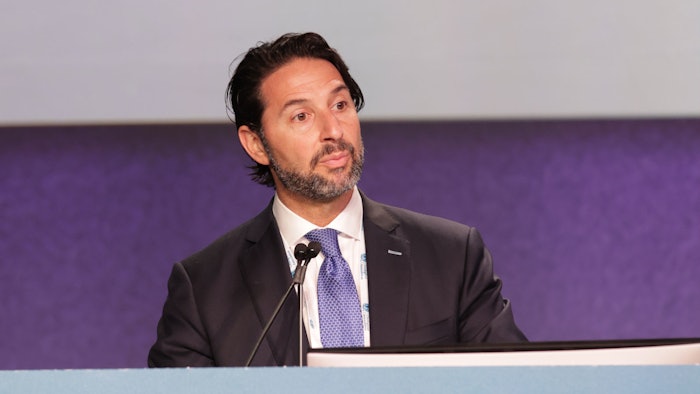 Trinity J. Bivalacqua, MD, PhD, director of urologic oncology at the Abramson Cancer Center at Penn Medicine in Philadelphia, Pennsylvania, capped off Sunday morning's plenary session with a summary of the AUA's newly updated clinical guideline for the diagnosis and management of priapism.
A joint guideline developed with the Sexual Medicine Society of North America, the 2022 update is the first change to the guideline in more than two decades.
"This is a big step, changing a guideline that was over 20 years old," said Dr. Bivalacqua, who chaired the development panel. "This guideline acknowledges that there is no one fixed set of rules for the treatment of priapism. Instead, it emphasizes that interventions should be individualized based on clinical history and evidence-based findings including the clinical judgment of the physician."
The guideline provides a clinical framework for the treatment (non-surgical and surgical) of non-ischemic priapism, recurrent ischemic priapism and priapism in patients with sickle cell disease. The treatment of patients with a prolonged erection following intracavernosal vasoactive medication is also included. The AUA published a guideline on the diagnosis of priapism and the treatment of acute ischemic priapism in 2021.
"Although non-ischemic priapism is not an urgent urological issue, prolonged [more than four hours] acute ischemic priapism, characterized by little or no cavernous blood flow and abnormal cavernous blood gases [i.e., hypoxic, hypercarbic, acidotic] represents a medical emergency and may lead to cavernosal fibrosis and subsequent erectile dysfunction," Dr. Bivalacqua said. "All patients with priapism should be evaluated emergently to identify the sub-type of priapism [acute ischemic versus non-ischemic] and those with an acute ischemic event provided early intervention."
The updated priapism guideline acknowledges that due to the relatively rare nature of the condition there is limited evidence-based information on its ideal management. Therefore, this guideline provides practical advice for most cases while allowing for flexibility in treatment so that health care providers can make the most informed decisions for care on a case-by-case basis, he said.
Regarding recurrent ischemic priapism, Dr. Bivalacqua said the guideline statement "clinicians should inform patients with recurrent ischemic priapism that optimal strategies to prevent subsequent episodes are unknown" was conditional with a Grade C evidence Level.
"I'd like to make the point that in this systematic review of the new guideline we made major advances in the basic science and understanding of the diagnosis and management of recurrent ischemic priapism, but at this time the optimal treatment is unknown," he said.    The following is a list of the statements made in the updated guideline:
Diagnosis of Priapism
1.    In patients presenting with priapism, clinicians should complete a medical, sexual and surgical history, and perform a physical examination, which includes the genitalia and perineum. (Clinical Principle)
2.     Clinicians should obtain a corporal blood gas at the initial presentation of priapism. (Clinical Principle)
3.     Clinicians may utilize penile duplex Doppler ultrasound when the diagnosis of acute ischemic versus non-ischemic priapism is indeterminate. (Expert Opinion)
4.     The clinician should order additional diagnostic testing to determine the etiology of diagnosed acute ischemic priapism; however, these tests should not delay, and should be performed simultaneously with, definitive treatment. (Expert Opinion)
Initial Management of Acute Ischemic Priapism
5.     In a patient with diagnosed acute ischemic priapism, conservative therapies (i.e., observation, oral medications, cold compresses, exercise) are unlikely to be successful and should not delay definitive therapies. (Expert Opinion)
6.     Clinicians should counsel all patients with persistent acute ischemic priapism that there is the chance of erectile dysfunction. (Moderate Recommendation, Evidence Level: Grade B)
7.     Clinicians should counsel patients with an acute ischemic priapism event >36 hours that the likelihood of erectile function recovery is low. (Moderate Recommendation, Evidence Level: Grade B)
Pre-Surgical Management of Acute Ischemic Priapism
8.     Clinicians should manage acute ischemic priapism with intracavernosal phenylephrine and corporal aspiration, with or without irrigation, as first line therapy and prior to operative interventions. (Moderate Recommendation, Evidence Level: Grade C)
9.     In patients receiving intracavernosal injections with phenylephrine to treat acute ischemic priapism, clinicians should monitor blood pressure and heart rate. (Clinical Principle)
Surgical Management of Acute Ischemic Priapism
10.  Clinicians should perform a distal corporoglanular shunt, with or without tunneling, in patients with persistent acute ischemic priapism after intracavernosal phenylephrine and corporal aspiration, with or without irrigation. (Moderate Recommendation, Evidence Level: Grade C)
11.  Clinicians should consider corporal tunneling in patients with persistent acute ischemic priapism after a distal corporoglanular shunt. (Moderate Recommendation, Evidence Level: Grade C)
12.  Clinicians should counsel patients that there is inadequate evidence to quantify the benefit of performing a proximal shunt (of any kind) in a patient with persistent acute ischemic priapism after distal shunting. (Moderate Recommendation, Evidence Level: Grade C)
Post Shunting Management of Acute Ischemic Priapism
13.  In an acute ischemic priapism patient with a persistent erection following shunting, the clinician should perform corporal blood gas or color duplex Doppler ultrasound prior to repeat surgical intervention to determine cavernous oxygenation or arterial inflow. (Moderate Recommendation, Evidence Level: Grade C)
Penile Prosthesis
14.  Clinicians may consider placement of a penile prosthesis in a patient with untreated acute ischemic priapism greater than 36 hours or in those who are refractory to shunting, with or without tunneling. (Expert Opinion)
15.  Clinicians should discuss the risks and benefits of early versus delayed placement with acute ischemic priapism patients who are considering a penile prosthesis. (Moderate Recommendation, Evidence Level: Grade C)
Recurrent Ischemic Priapism
16.  Clinicians should inform patients with recurrent ischemic priapism that optimal strategies to prevent subsequent episodes are unknown. (Conditional Recommendation, Evidence Level: Grade C)
17.  Clinicians should inform patients with recurrent ischemic priapism that hormonal regulators may impair fertility and sexual function. (Strong Recommendation, Evidence Level: Grade B)
Sickle Cell Disease and other Hematologic Disorders
18.  In patients with hematologic and oncologic disorders such as sickle cell disease or chronic myelogenous leukemia, clinicians should not delay the standard management of acute ischemic priapism for disease specific systemic interventions. (Expert Opinion)
19.  Clinicians should not use exchange transfusion as the primary treatment in patients with acute ischemic priapism associated with sickle cell disease. (Expert Opinion)
Prolonged Erection Following Intracavernosal Vasoactive Medication 
20.  In patients presenting with a prolonged erection of four hours or less following intracavernosal injection pharmacotherapy for erectile dysfunction, clinicians should administer intracavernosal phenylephrine as the initial treatment option. (Expert Opinion)
21.  Clinicians should instruct patients who receive intracavernosal teaching or an in-office pharmacologically induced erection to return to the office or Emergency Department if they have an erection lasting >four hours. (Expert Opinion)
22.  Clinicians should utilize intracavernosal phenylephrine if conservative management is ineffective in the treatment of a prolonged erection. (Moderate Recommendation, Evidence Level: Grade C)
Non-Ischemic Priapism
23.  Clinicians should counsel patients that non-ischemic priapism is not an emergency condition and should offer patients an initial period of observation.  (Expert Opinion)
24.  In a patient with diagnosed non-ischemic priapism, the clinician should consider penile duplex ultrasound for assessment of fistula location and size. (Expert Opinion)
25.  In patients with persistent non-ischemic priapism after a trial of observation, and who wish to be treated, the clinician should offer embolization as first-line therapy.  (Moderate Recommendation, Evidence Level: Grade C)
26.  Non-ischemic priapism patients should be informed that embolization carries a risk of erectile dysfunction, recurrence, and failure to correct non-ischemic priapism. (Moderate Recommendation, Evidence Level: Grade C)
27.  In non-ischemic priapism patients with a persistent erection after embolization of the fistula, the clinician should offer repeat embolization over surgical ligation. (Moderate Recommendation, Evidence Level: Grade C)