---
Disaster recovery: Rescuing light from darkest outcomes
A behind-the-scenes look at a list of worst-case scenarios and some tips on how to avoid those issues in your own practice.
---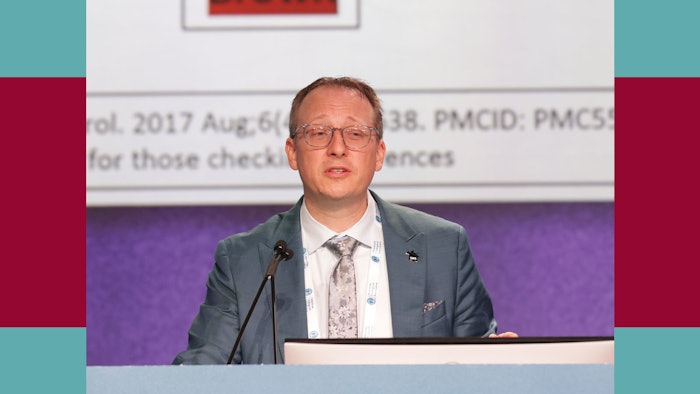 Cautionary tales were on display as four surgeons shared the shock and awe behind some truly concerning complications during Saturday morning's plenary session.
Moderated by Randall Meacham, MD, professor and chief of the division of urology at the University of Colorado School of Medicine in Denver, "When Disaster Strikes Again: Preventing and Managing Nightmare Cases in Urology" gave attendees a behind-the-scenes look at a list of worst-case scenarios and some tips on how to avoid those issues in their own practices.
"This morning our colleagues are going into some of the very darkest places they've ever been in hopes that you and I never have to go there ourselves," Meacham said. "These heroes are going to show you some of the most bitter aspects of some truly concerning complications to keep you from experiencing the same bitterness in your own practice."
Tobias S. Kohler, MD, MPH, professor of urology at the Mayo Clinic in Rochester, Minnesota, kicked off the session talking about a 27-year-old type 1 diabetic patient who came to his office with severe erectile dysfunction. The patient had elected to pursue penile implantation in order to have children with his fiancée, but because he'd already had a heart attack and bypass surgery, his case was complex.
"This was a pretty sick individual," Kohler said. "But he elected to pursue the implant because he wanted children."
Unfortunately, the first procedure didn't work and Kohler removed the device 16 hours after implantation.
"I was up all night worrying about [the patient]," he said. "I really thought the guy's penis might fall off."
The decision to remove the implant was the right one. The patient recovered and came back for a second attempt 13 months later. This time, Kohler said he opted for a smaller catheter, along with other tweaks, but in the end, the result was the same and he was forced to remove the device.
Fortunately, the story resulted in an odd but positive outcome.
"So he ends up back on my schedule and … I open the door to the office and there his wife is holding a newborn baby," Kohler said. "I tried to appear not confused and offered my congratulations. [The patient] says, 'Doc, ever since you removed that second implant, my penis is hard enough for sex.' Turns out there was so much scar tissue from all the damage we'd done, they were able to have a child."
Brian W. Cross, MD, associate professor of urologic oncology at the University of Oklahoma College of Medicine in Oklahoma City; Lindsay Hampson, MD, MAS, assistant professor at the University of California–San Francisco; and Rene Sotelo, MD, professor at the University of Southern California in Los Angeles, followed Kohler presenting cases focusing on (respectively) female organ-sparing cystectomy, suprapubic tube management gone awry, and how to best diagnose and treat superior mesenteric artery syndrome.