---
The future of effective care is multidisciplinary
A multidisciplinary team can lead to better decision making and more effective care.
---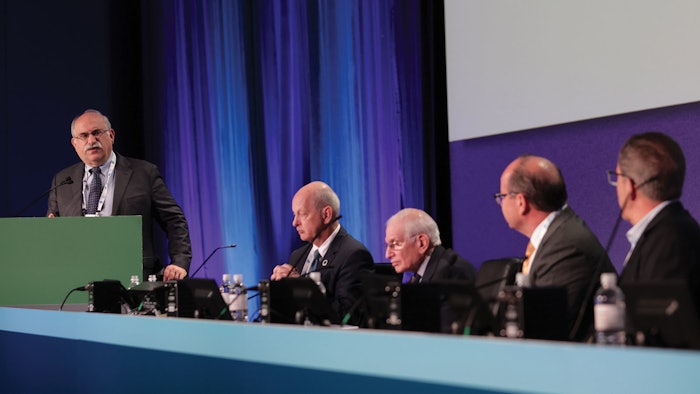 The multidisciplinary team approach, evolving to become the standard of care for managing patients in urologic oncology, served as a hot topic during Friday morning's plenary. Moderated by Leonard Gomella, MD, FACS, and featuring panelists Neal D. Shore, MD, FACS, and Michael Cookson, MD, MMHC, "What Is the Optimal Multidisciplinary Team in 2022: Drafting for the Future" looked at why the team concept has gained popularity and how it can continue to improve.
Dr. Gomella said advances in all areas of urologic oncology in every aspect of the disease, especially prostate, bladder and kidney cancer, have made it preferable for patients with multidisciplinary therapies.
"This can all be facilitated by a strong multidisciplinary care team," he said. "What we need is specific expertise in surgery, radiation oncology, medical oncology, nuclear medicine, genetic testing and molecular medicine."
As defined by the panel, the multidisciplinary team approach can be delivered three ways:
A multidisciplinary clinical team featuring real-time interaction with the patient, family and specialists where providers go to the patient to provide one common treatment.
A care pathway where providers agree to a predefined treatment map that every team member follows.
Or a tumor board where patients are presented to a group and the findings are transmitted back to the provider
Dr. Gomella said decision making from multidisciplinary treatment plans for high-risk disease often requires input from multiple specialists in consideration for clinical trials, which leads to more effective care. In addition, he said, it has become clear that treatment regret by patients is limited if they have had the opportunity to talk to a series of specialists before making a final decision.
For that reason, he said, the multidisciplinary approach is getting to be quite popular.
"The GU multi-team approach has improved care for patients, and this has been documented in the literature in terms of improved outcomes, better adherence to NCCN guidelines, a broadening of treatment options, an increase in accrual to clinical trials and, most importantly for our patients, less regret regarding treatment decisions," Dr. Gomella said.
The panelists agreed that effective multidisciplinary teams include some or all of the following:
A core team featuring a navigator/coordinator and members from:

urology/urological oncology
medical oncology
radiation oncology

Optional members such as:

radiologist
pathologist
nuclear medicine specialist
genetic counselor
physician assistant or nurse practitioner
clinical trials coordinator
social worker
nutrition specialist
psychologist
Dr. Gomella said it is common for patients and their families to express feeling more comfortable talking to a physician assistant or nurse practitioner, which is an important consideration when it comes to making sure everyone understands the various outcome scenarios.
"(Multidisciplinary teams) offer a high patient satisfaction and retention rate, which is fueled in no small part by the decrease in patient regret," he said.