---
New treatment options emerging for patients with refractory NMIBC
Defining BCG unresponsiveness is important for treatment planning.
---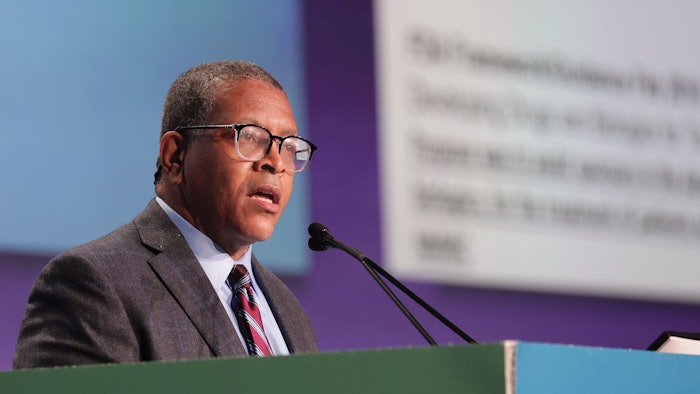 Patients who experience tumor recurrence or progression despite Bacillus Calmette-Guérin (BCG) therapy following high-grade non-muscle invasive bladder cancer (NMIBC) resection present one of most challenging scenarios in urologic oncology.
"The gold standard remains radical cystectomy for those eligible with appropriate life expectancy," said Tracy Downs, MD, FACS, chief diversity and community engagement officer at the University of Virginia Health System in Charlottesville.
Still, the future is bright for these patients due to an increasing array of treatment options.            
Dr. Downs moderated Friday's plenary, "Survivor Debate: Non-Muscle Invasive Bladder Cancer Refractory to BCG: Cystectomy, Systemic Immunotherapy, Intravesical Chemotherapy," which highlighted these treatment advancements, beginning with a key step in the process: defining when an NMIBC patient is BCG unresponsive. "The data show it is an important definition to rely upon for how to move forward with these complex patients," Dr. Downs said.
Determining the BCG responsiveness status of a patient with high-risk NMIBC relies on 2018 FDA Framework/Guidance, defined as:
Persistent or recurrent bladder carcinoma in situ (CIS) ± Ta or T1 within 12 months of completion of adequate BCG—("5+2")
Persistent or recurrent high-grade Ta or T1 within six months of completion of adequate BCG—no change
T1HG at first evaluation after single induction BCG—at least five of six induction doses—no change
Defining BCG unresponsiveness is important for treatment planning. BCG-unresponsive patients are more likely to require radical cystectomy. Those opting for second-line therapies are less likely to remain disease free. BCG-unresponsive also indicates inferior high-grade recurrence-free survival and cystectomy-free survival, Dr. Downs said.        
Other guiding principles for managing BCG unresponsiveness in the NMIBC patient include the quality of transurethral resection of a bladder tumor in NMIBC treatment, the importance of prostatic urethra sampling and ureteral/upper tract monitoring.
Case studies were presented involving patients with persistent CIS to assess whether the extent of the disease was adequately evaluated, with expert commentary from Seth P. Lerner, MD, professor of urology and the Beth and Dave Swalm Chair in Urologic Oncology at Baylor College of Medicine in Houston, Texas, and James M. McKiernan, MD, the John K. Lattimer Professor of Urology and chair of the Department of Urology of the College of Physicians and Surgeons and urologist-in-chief at New York-Presbyterian/Columbia.            
In high-risk patients with persistent or recurrent disease within one year following treatment with two induction cycles of BCG or BCG maintenance, Dr. Downs noted that AUA Guidelines 2020 recommend that clinicians offer radical cystectomy.
Still, new treatment options are available; others are expected to be ready for routine use in the near future. For patients with intermediate or high-risk NMIBC, 2020 AUA/SUO NMIBC Guidelines recommend that within 12 months of adequate BCG therapy for patients unwilling or unfit for radical cystectomy, a clinician may recommend clinical trial or offer alternative intravesical therapy, such as valrubicin, gemcitabine, docetaxel or combination chemotherapy. A clinician may also offer systemic immunotherapy with pembrolizumab to a patient with CIS within 12 months of completing adequate BCG therapy.
Moreover, systemic immunotherapy is FDA approved and guideline endorsed with emerging intravesical immunotherapy data. Intravesical combination chemotherapies are now guideline endorsed with promising multiagent trial data. Combination trials of intravesical and systemic therapies are also ongoing.
"After 21 years without an FDA approval, the menu of options is exciting," Dr. Downs said.