---
Come see the next generation of leaders in urological research
Early career researchers from around the world will present their findings at this year's showcase.
---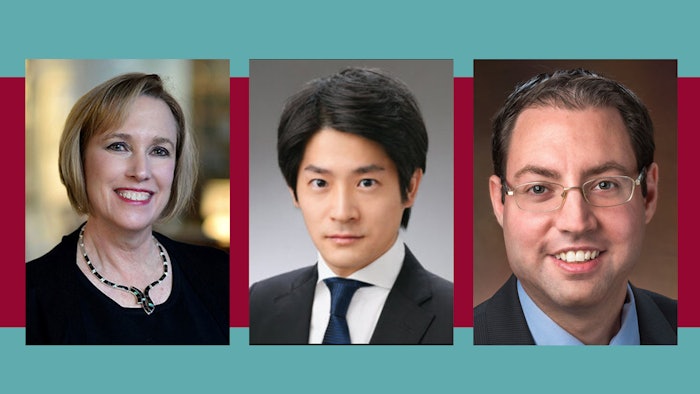 Lower urinary tract symptoms (LUTS) and disorders of voiding are among the most common reasons people are referred to urologists. They affect around 20% of school-aged children and 40% of adults over age 40.
Despite this frequency, very little is known about the specific neuronal populations that control voiding, which leads to limited therapeutic options for patients.
New research will be presented at the Early Career Investigators Showcase on Sunday aimed at better understanding how specific central nervous system neurons and neuronal subpopulations control voiding.
Jason Van Batavia, MD, MSTR, assistant professor of urology at Perelman School of Medicine at the University of Pennsylvania in Philadelphia, will present that research, which he says is intended to further the understanding of the brain-bladder pathways controlling volitional voiding and to reverse the effects of cyclophosphamide-induced cystitis.
"Using modern neuroscience techniques of optogenetics and fiber photometry, we have been investigating the role of a specific set of neurons in the brainstem that control voiding," he said. "These neurons express a stress neurohormone called corticotropin-releasing hormone, and this marker is upregulated in the pontine micturition center in mice after chronic social stress."
Dr. Van Batavia said he is excited to be part of this year's showcase, which will feature a total of nine podium presentations and 27 poster sessions.
"To be amongst the other participants at the showcase this year and all prior showcase presenters is an incredible honor, and I am excited both to present our work and also see what other cutting-edge projects the other presenters are working on," he said.
One of this year's judges, Dolores Lamb, PhD, professor of urology at Weill Cornell Medicine in New York City, said the showcase is an excellent opportunity for attendees to get a first look at the next generation of leaders in urological research. It is also an important step for the researchers themselves.
"It is a wonderful opportunity to present in front of an expert audience," she said, "to show their abilities not only as a scientist, but also as an effective communicator. A chance to demonstrate their skills—what their foundation of knowledge is, how they respond to questions, their personality and how bright they are—in front of many of the world's leaders in urological research. A rare but invaluable opportunity."
Fumihiko Urabe, MD, PhD, clinical associate in the Department of Urology at the Jikei University School of Medicine in Tokyo, Japan, can vouch for that opportunity firsthand. His presentation on early urological cancer detection tools using serum microRNAs took top honors in the 2021 Showcase. Although that one took place virtually, Dr. Urabe said it was still an exciting moment for him and his research.
"Actually, this was my first international prize, and the award was announced on the official website of the Japanese Urological Association," he said. "I believe the award will help accelerate motivation for my future research and career development."