---
Get ready to be bowled over!
The AUA Residents Bowl returns for a fun challenge.
---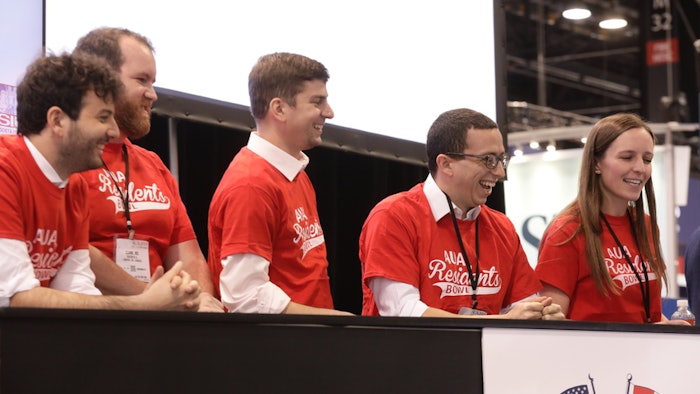 A perennial favorite has returned to AUA2022, with the Residents Bowl pitting teams from each section of the AUA against each other for the ultimate prize—a trophy and, of course, bragging rights.
The 10th annual AUA Resident Bowl kicked off on Friday with the preliminary round, with the four winning teams from that round moving on to the semifinals at 12:30 p.m. on Saturday. The two winning teams from that round will then square off in the championship round scheduled for 1 p.m. on Sunday. All rounds will take place in the Science & Technology Hall.
Gary Faerber, MD, FACS, professor of urology at Duke University School of Medicine in Durham, North Carolina, said it's one event you won't want to miss.
"The games are very entertaining," he said. "It's not at all unusual to have upwards of 300 people attend. Oftentimes it's standing room only."
Here's how the competition works: There are eight teams made up of residents from each section of the AUA. In addition, each team also includes an international representative. The teams choose four representatives for each game. During the game, each team is given a question. If they answer correctly, they receive points. The next question is then directed to the opposing team.
Questions cover a wide range of topics including urological subspecialties, the history of urology and new findings in research. Dr. Faerber said there are also bonus questions, lifelines and passes built into the games to help teams that may be struggling. The audience isn't left out of the fun, either.
"In the semifinal rounds, there are audience participation questions where we call on the audience to provide the correct response," he said. "Teams can either choose what the audience has chosen or strike out on their own. And the championship game features a 'Phone-a-Chair' where one of the teams can reach out to Dr. Kurt McCammon, chair of the Department of Urology at Eastern Virginia, for advice. The championship game ends with a final set of questions for which both teams provide answers. It's a lot of fun."
That's not the only way the audience takes part. In years past, audience members have shown up to cheer on their sections in team colors and carrying pom poms and cowbells.
Although the atmosphere is mostly one of friendly competition, Dr. Faerber said that things can heat up as the competition increases.
"The atmosphere at times can become tense as games come down to the wire," he said. "There are always a few light-hearted moments. We've had several games in the past that have ended in a tie where sudden-death tiebreakers were necessary to declare a winner."
Dr. Faerber said he hopes the crowd at this year's event is just as raucous as in previous years.
"We hope, like in years past, attendees will show up and cheer their section teams on and, at the same time, learn a thing or two," he said.