---
Social media plays role in early-career urology
Don't miss this discussion of the pros and cons of social media.
---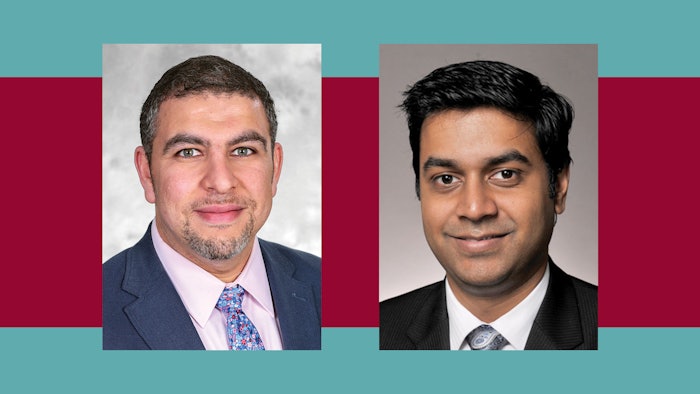 Early career urologists are no doubt skilled in social media. They can post and tweet with the best of them. But understanding social media's true impact on the career of a young urologist is not without challenges.
Discussing the pros and cons of social media is the focus of Saturday's Young Urologists Forum, co-chaired by Sammy Elsamra, MD, associate professor at Rutgers Robert Wood Johnson Medical School in New Brunswick, New Jersey, and chair of the AUA's Young Urologists Committee, and Jay Simhan, MD, associate professor of urology at the Fox Chase Cancer Center in Philadelphia, Pennsylvania. Despite a young urologist's social media savvy, according to Dr. Elsamra, there's still plenty learn. 
"Can social media help your professional reputation? It can help some in your local community as well as with peers and in research," Dr. Elsamra said, "but there are other considerations, too." 
Dr. Elsamra believes that your practice's positive social media presence can result in referrals within your community and sometimes even further. Although many people associate urology with older patients, younger patients, who have grown up with social media, have urology needs, including postpartum women and children, he said. 
However, there are pitfalls to the use of social media in your urology practice, too. Dr. Simhan reminds urologists to consider whether their posts are offensive, for example. Even the mention of circumcision, he said, can turn patients away. As young urologists craft social media posts, they should remember to keep their sense of humor in check as well as their opinions, even clinical opinions that seem harmless. 
"If you come out with a statement about a treatment or plan of care for patients, it may not fit all patients and may be contrary to other urologists' opinions," Dr. Simhan said. 
As far as the different social media platforms that are available, Dr. Elsamra said Facebook often is the best forum for promoting your practice in your local community, while Twitter is effective for sharing information about research and networking with colleagues. Although Dr. Elsamra admits he is not an "Instagram super user," he said it may provide a balance between Facebook and Twitter. 
Regardless of the platform, Drs. Elsamra and Simhan advise young urologists to develop a social media plan that includes what they'll post, with what frequency and the person or persons at their practice who will be responsible for the task. 
Featured panelists adding to the discussion on social media during the forum include: 
Stacy Loeb, MD, PhD, MsC, a professor of urology at New York University Grossman School of Medicine in New York, "Global Perspective, Promise and Pitfalls of Social Media." 
Rena D. Malik, MD, assistant professor of urology at the University of Maryland School of Medicine in Baltimore, "Choosing a Platform (Instagram, YouTube, TikTok)— What Platform Is a Right Fit?" 
Aditya Bagrodia, MD, assistant professor of urology at UT Southwestern School of Medicine in Dallas, "Nuts & Bolts of Podcasts, Defining Success with Social Media, Passion Project." 
Justin Dubin, MD, andrology fellow at Northwestern University Feinberg School of Medicine in Chicago, "Why You Should Use Social Media, Experience with Twitter, Passion Project to Avoid Burnout." 
"Our four speakers have figured out a way to have a significant social media presence and can give examples to young urologists on how to do it to enhance their professional armamentarium," Dr. Elsamra said. 
The Young Urologists Forum is designed to inspire and motivate early career professionals and help them in their common struggles as young urologists. Additionally, the forum will present the Young Urologists of the Year Award and close with the sponsor symposium, "Complications and Recurrence after Focal Therapy for Prostate Cancer." The symposium, sponsored by FUJIFILM, will be led by Andre Luis de Castro Abreu, MD, assistant professor of clinical urology at Keck Medicine, University of Southern California in Los Angeles.