---
Register Now for the Genitourinary Symposia at AUA
Don't miss the Prostate and Urothelial Cancer Symposia to learn more about the latest advances.
---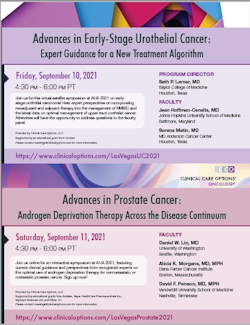 Advanced in Early-State Urothelial Cancer: Expert Guidance for a New Treatment Algorithm
Friday, September 10, 2021   4:30pm - 6:00pm PT
Interact with experts as they discuss incorporating neoadjuvant and adjuvant therapy into the management of NMIBC and the latest data on optimal management of upper tract urothelial cancer.
Program Director: Seth P. Lerner, MD, Baylor College of Medicine, Houston, TX
Faculty: Jean Hoffman-Censits, MD, John Hopkins University School of Medicine, Baltimore, MD and Surena Matin, MD, MD Anderson Cancer Center, Houston, TX.
Register at http://www.clinicaloptions.com/LasVegasUC2021
---
Advanced in Prostate Cancer: Androgen Deprivation Therapy Across the Disease Continuum
Saturday, September 11, 2021   4:30pm - 6:00pm PT
Recognized experts share their insights and respond to questions on the optimal use of androgen deprivation therapy for prostate cancer.
Faculty: Daniel W. Lin, MD, University of Washington, Seattle, WA; Alicia K. Morgans, MD, MPH, Dana-Farber Cancer Institute, Boston, MA and David F. Penson, MD, MPH, Vanderbilt University School of Medicine, Nashville, TN.
Register at http://www.clinicaloptions.com/LasVegasProstate2021